India
A Nepalese army helicopter flies over a possible plane crash site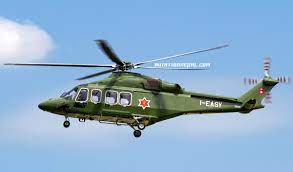 A Nepal Army helicopter has discovered the site where a small plane of a local airline with 22 passengers on board, including four Indians, may have crashed amid bad weather, according to media sources.
According to an airline representative, the Tara Air Twin Otter 9N-AET plane took off from Pokhara at 10:15 a.m. and lost communication with the control tower 15 minutes later.
According to My Republica, a Nepal Army helicopter carrying 10 troops and two civil aviation authority officials crashed on the bank of a river near the Narshang Monastery, perhaps the crash site.
The publication quoted Prem Nath Thakur, general manager of the Tribhuvan International Airport, as saying, "A Nepal Army chopper has landed on the river bank near Narshang Gumba."
Surprisingly, the plane was found after Nepal Telecom used the Global Positioning System network to track down the jet's pilot, Captain Prabhakar Ghimire's smartphone.
Captain Ghimire's phone has been ringing, and a Nepal Army chopper has landed near the possible accident spot after Nepal Telecom tracked the captain's phone, according to Thakur.