India
The Sultanpuri anti-encroachment drive in Delhi was called off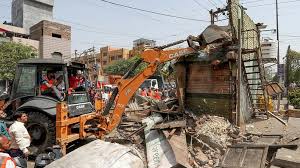 As a result of a lack of police force, a planned anti-encroachment drive in northwest Delhi's Sultanpuri area was cancelled on Thursday.
To remove both temporary and permanent encroachment from roads and government land, the North Delhi Municipal Corporation has scheduled a drive at Sultanpuri's Jagdamba market.
Anti-encroachment operations were scheduled for Thursday in the Jagdamba Market area of Sultanpuri, but they were postponed due to lack of police force, a government official said.
An encroachment-removal drive in Sultanpuri's Fish Market area was also cancelled on Wednesday due to a lack of police force, according to an official.
More than a dozen anti-encroachment drives have been carried out by the city's three civic bodies in recent weeks in areas such as Shaheen Bagh, Jahangirpuri, New Friends Colony and Rohini, among others.
Several civil rights organisations and opposition parties blasted the North Delhi Municipal Corporation (NDMC) last month for demolishing buildings in the Jahangirpuri area, a hotbed of violence, as part of an anti-encroachment drive. After the Supreme Court's intervention, the drive was halted.