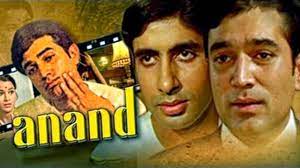 "Anand," Hrishikesh Mukherjee's cult classic, is getting a remake after 50 years.
Vikram Khakhar and Sameer Raj Sippy, the grandson of N.C.Sippy, are working on a new version of the 1971 hit.
The late Rajesh Khanna played the title role of a terminally ill cancer patient in Mukherjee's "Anand," which starred megastar Amitabh Bachchan as Dr. Bhaskar, affectionately known by Khanna's character as "Babumoshai."
The project is still in the scripting phase, and a director has yet to be selected, according to the producers.
'Anand,' says Sameer Raj Sippy, is an example of a story that should be told to the next generation.
The producer said in a statement on Thursday that he felt the current generation needed to be retold the many stories that are so relevant today and especially when there is a great hunger for good content.