Archery
India's archers win two gold medals at the World Cup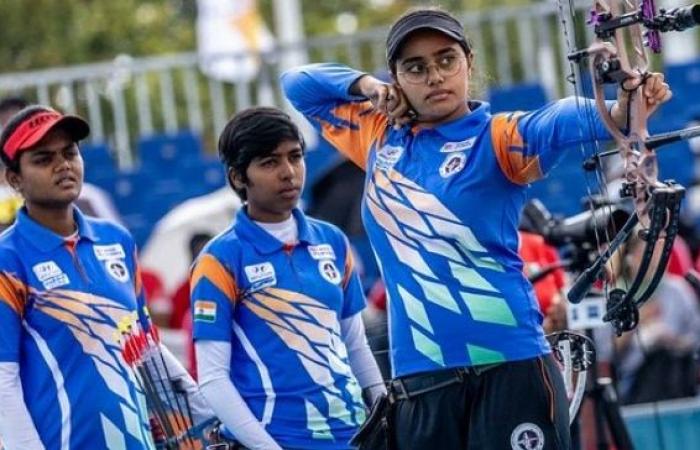 Indian archers won both the men's and women's team gold medals in the compound events, capping off their World Cup Stage 4 campaign with five medals on Saturday in Paris.
Abhishek Verma, Ojas Deotale, and Prathamesh Jawkar, the fourth-seeded Indian men's compound team, defeated Kris Schaff, James Lutz, and Sawyer Sullivan, the second-seeded American men's compound team, 236-232 in the championship match.
The composite women's team of Jyothi Surekha Vennam, Aditi Swami, and Parneet Kaur, who had just won the world championship earlier this month in Berlin, overcame a scare to defeat Mexico by one point.
When she won the bronze in the individual women's compound portion during the afternoon session, Jyothi earned India's sixth medal and her second personally.
In the shoot-off, Jyothi triumphed over Columbia's Sarah Lopaz, a five-time World Cup gold medalist. After the regulation period, the scores were knotted 146 all, and the Indian won the tiebreaker by shooting an X (closer to the centre).
The American had a perfect round of 60 after the first end, leaving the Indian men's compound team in the lead by one point. However, the Indians continued to play consistently, scoring another 59 points to tie the Americans 118-118.
The teams were deadlocked going into the third end until the Indians came out swinging, shooting a flawless 60 to defeat their lower-ranked rivals by four points.
In a match that was decided by a single point after regulation ended at 235 all, the men's team defeated Korea to advance to the final.
Both sides scored perfect 30s in the tiebreaker, which likewise ended in a tie, but the Indians were declared the winners since they struck closer to the centre.
The Indian women's team, which won the championship by dominating the qualifiers, led 118-117 after the first half. However, they lost three points in the penultimate end as Andrea Becerra, Ana Hernandez Jeon, and Dafne Quintero scored a 59 to seize the lead at 176-175.
The Indians maintained composure and scored an almost flawless 59, consisting of five 10s and one X (closer to the centre), which was enough to win by a score of 234 to 233 and secure the gold medal.
India won two bronze medals for the recurve team prior.
The first team to secure their spot on the podium was the men's recurve team of Dhiraj Bommadevara, Atanu Das, and Tushar Prabhakar Shelke, who rallied from behind to defeat the Spanish trio of Pablo Acha, Yun Sanchez, and Andres Temino.