India
INS Surat & INS Udaygiri join Indian Navy
On May 17, 2022, Indian Defense Minister Rajnath Singh unveiled the INS Surat destroyer and the INS Udaygiri frigate, both of which will join the Indian Navy's growing fleet.
The Mazgaon Docks Limited in Mumbai built the Project 17A frigate INS Udaygiri.
Two indigenously built warships have been launched simultaneously for the first time, Mazgaon Dock Shipbuilders Ltd. stated.
"The INS Surat" is the fourth ship in the Project 15B Destroyers series, which marks a significant upgrade over the P15A (Kolkata Class) destroyers, and is named after the commercial capital of Gujarat.
The Mazagon Docks are home to the Indian Navy's Project 15B class of stealth guided missile destroyers, which are currently in development.
Earlier Rajnath Singh Tweeted,
मुझे यह भी विश्वास है, कि आने वाले वर्षों में INS सूरत, और INS उदयगिरि महासागरों पर गर्व के साथ हमारे ध्वज को बुलंदी से फहराएंगेI यह दोनों ships न केवल हमारी सामरिक ताकत, बल्कि हमारी आत्मनिर्भरता की ताकत से भी दुनिया को परिचित कराएंगे: रक्षा मंत्री

— रक्षा मंत्री कार्यालय/ RMO India (@DefenceMinIndia) May 17, 2022
It is the third ship in the Project 17A frigate series, named after the Udaygiri mountain range in Andhra Pradesh. According to the Indian Navy, it is a follow-up to the Shivalik-class P17 frigates with improved stealth, advanced weapons and sensors, and platform management systems.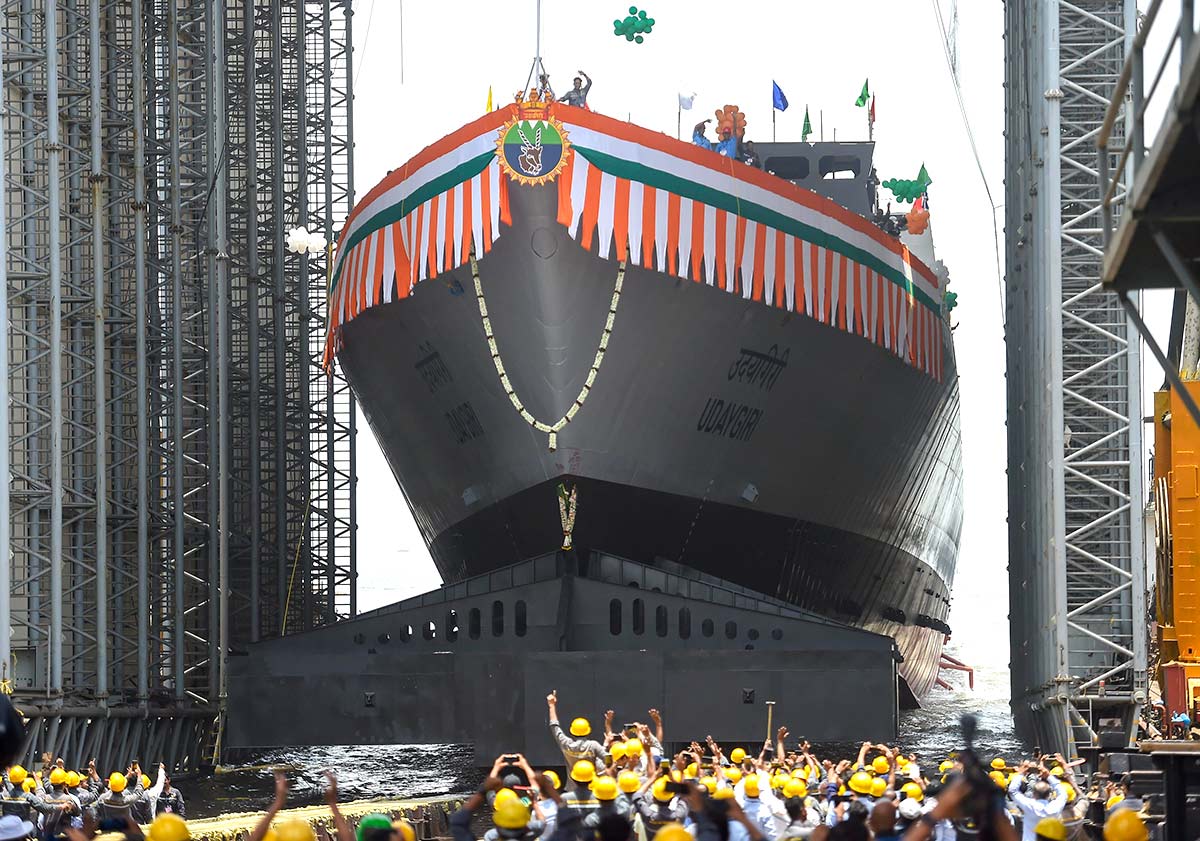 The new warship is a reincarnation of the former INS Udaygiri, an ASW frigate of the Leander Class that served the country for over three decades between February 1976 and August 2007 before being decommissioned.
Rajnath Singh also addressed the navy personnel.
Addressing the Indian Navy Personnel in Mumbai. https://t.co/W6V6tRAiiF

— Rajnath Singh (@rajnathsingh) May 17, 2022
Attended the launch ceremony of two indigenous frontline warships – Surat (Guided Missile Destroyer) & Udaygiri (Stealth Frigate) – in Mumbai today.⁰
These warships project India's strategic strength and self-reliance prowess to the world. Read on..https://t.co/N5oWACTTzW pic.twitter.com/UscvCajqF4

— Rajnath Singh (@rajnathsingh) May 17, 2022