India
Kapil Sibal leaves Congress & SP supports him for Rajya Sabha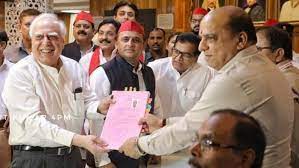 In the presence of party chairman Akhilesh Yadav and party MP Ram Gopal Yadav, former Congress leader Kapil Sibal filed his nomination for the Rajya Sabha elections with the support of the SP.
"I filed my nomination as an Independent candidate because I've always wanted to be an independent voice in the country," he says, adding that he resigned from the Congress party on May 16th.
"It's critical to have your own voice. "While remaining in opposition, we want to form an alliance to resist the Modi government," Sibal says.
Sibal traveled to the Uttar Pradesh assembly grounds with Akhilesh Yadav and other senior leaders to file his papers, as his term as a Congress Rajya Sabha member expires in July.
Sibal further said,I'll not say anything about Congress. I've resigned, so it's not appropriate for me to say anything about the Congress. It's not easy to leave a relationship of 30-31 years."
In the past, only a few came to House by getting elected independently, especially in the Rajya Sabha. I've got a big opportunity and it has been given to me by Akhilesh Yadav, Shivpal Yadav, Azam Khan. I will raise the issues of the country in the House," Sibal further added.
"I have filed the nomination as an Independent candidate. I thank Akhileshji for supporting me," Sibal told reporters in Lucknow.
"I resigned from the Congress on May 16 and am no longer a senior Congress leader," he said.
Congress is struggling with real leadership crisis currently and it looks like we are finally moving towards Congress-Mukta Bharat.