India
Protests by Kashmiri Pandits took place in Srinagar's Lal Chowk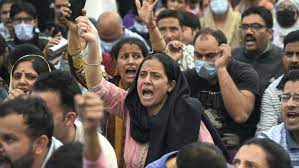 Scores of Kashmiri Pandits marched in protest of Rahul Bhat's death in Lal Chowk city center on Saturday, according to officials, shouting "We want justice" and "Administration haye haye" (down with administration).
In memory of Bhat, who was gunned down by terrorists on May 12 inside the Tehsil office of Chadoora town in Budgam district, members of the community gathered near Bund in Lal Mandi and performed a puja in the Jhelum river.
They marched toward Lal Chowk soon after the puja was over.
Protesters staged a sit-in at Lal Chowk's famous clock tower after reaching Lal Chowk.
Protesters chanted anti-government slogans and demanded that justice be served for Bhat. They also demanded that the killers of Bhat and the Budgam authorities be held accountable for their actions.
Protesters also called for the relocation of Kashmiri Pandit employees who received jobs as part of Prime Minister Narendra Modi's employment package.
Protests against the killing of Bhat and the 'failure' of the administration to provide security to Kashmiri Pandit employees have taken place across Jammu and Kashmir.
Bhat was hired as a clerk in 2010-11 as part of a special program for migrants.