India
Kejriwal: Kashmiri Pandits must have enough security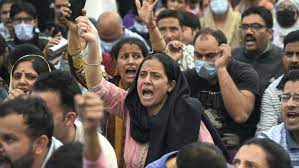 Concerned about the "targeted" killings of numerous Kashmiri Pandits in the Valley, Delhi Chief Minister Arvind Kejriwal called on Wednesday that they be given proper security and that their voices not be "stifled."
In an online press conference, he also stated that terrorist forces do not desire communal harmony in Jammu and Kashmir because members of the Kashmiri Pandit community are being "targeted and killed," evoking the events of the 1990s.
He further stated that this year, 16 Kashmiri Pandits have been slain. "I urge that Kashmiri Pandits be provided with proper security and that their voices not be silenced. They should be permitted to build residences in their 'janmabhoomi' (birthplace)," according to Kejriwal.
"It is my appeal to the Centre that we must all work together to help Kashmiti Pandits settle in Kashmir, and we are willing to play whatever role we can," he said.
On Wednesday, protests against the assassination of a Hindu schoolteacher in Kulgam erupted in many locations across Jammu, Samba, and Kathua districts of Jammu & Kashmir for the second day in a row.