India
Kashmiri Pandits in J-K are staging a "thali bajao" protest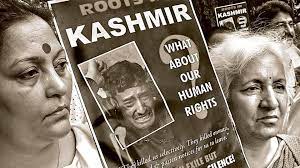 Kashmiri Pandit employees staged a thali bajao protest against the assassination of Rahul Bhat last week on Tuesday in the Anantnag district, marching and banging kitchen utensils.
An employee of the special employment package for migrants in 2010-11, Bhat was killed by terrorists on Thursday while working in the tehsil office in Chadoora, central Kashmir.
All PM Package Employees Forum's protestors marched on the highway banging utensils and chanting for justice, despite the rain.
On a previous visit to the protest site, Vijay Kumar, the Inspector General of Police for Kashmir, warned the Kashmiri Pandits that if they stayed on the road, terrorists could ambush them.