India
Pradhan Mantri Sangrahalaya is a popular destination Says PM Modi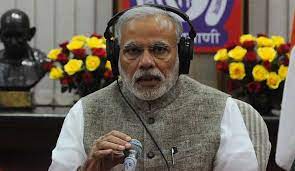 Prime Minister Narendra Modi says the Pradhan Mantri Sangrahalaya is becoming a popular destination for young people, according to his weekly radio address, Mann Ki Baat.
For today's radio address, Prime Minister Modi invited listeners to submit their thoughts on topics and issues that are important to them. On the last Sunday of every month, the Prime Minister's radio broadcast is broadcast.
PM Narendra Modi said Sunday that the recently inaugurated Pradhan Mantri Sangrahalaya (prime minister's museum) is becoming the center of attraction for young people, which is "connecting them with the precious heritage of India."
Addressing the nation on his monthly radio show Mann Ki Baat, Prime Minister Narendra Modi said that the Pradhan Mantri Sangrahalaya had recently received a number of letters.
On April 14, the birth anniversary of BR Ambedkar, the museum was officially opened.
"In a letter, Sarthakji informed me that he had been to the museum. He talked about how he's always been a history buff, but he was blown away by some of the facts he learned at the museum "Then, he added.
Amrit Mahotsav, India's national festival, is an ideal time for commemorating those who have made significant contributions to its development.
To encourage more people to go to their local museums over the summer, Prime Minister Trudeau used the hashtag #MuseumMemories.
"International Museum Day will be celebrated on May 18th. Visit your local museum and share your memories with #MuseumMemories to mark this day "he stated.
The Prime Minister wants to see more transactions carried out via the internet.
By encouraging people to use online payments, the Prime Minister hoped to foster a strong digital economy.
"I received a letter from Anandita Tripathi, who described her trip to the North East. She was able to travel from Assam to Meghalaya without using any ATMs. As a result of using UPI, she was able to pay for her entire trip without using any cash," he said.
"Sagarika and Preksha, two Delhi-born daughters, no longer felt the need to carry cash. Every transaction can be done digitally on UPI, according to them," he added.
According to the Prime Minister, India's digital economy generates more than Rs 20,000 crore in transactions every day.
According to the speaker, "the country is also moving toward developing fintech startups."