Sports
Nikhat, Parveen, and Anamika force their way into quarterfinals of World Boxing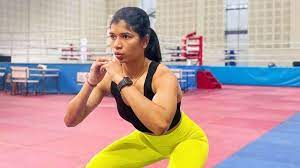 As the Asian Championships bronze medalist, Nikhat Zareen (52kg) made it to the quarterfinals of the World Boxing Championships in Istanbul on Sunday alongside Anamika (50kg) and Parveen (63kg), as well.
By a unanimous decision, Nikhat defeated Mongolia's Lutsaikhan Altantsetseg.
In the subsequent bouts, Parveen outpunched former Youth Olympic champion Jajaira Gonzalez of the United States by a margin of five knockouts, while Anamika outpointed world championships bronze medalist Kristy Lee Harris of Australia by a similar margin.
Shiksha (54 kg) lost to Yesugen Oyuntsetseg of Mongolia in a split decision, but it wasn't quite as bad for the Mongolian.
She was the first Indian to compete on Sunday, and she dominated her round of 16 match from beginning to end.
Throughout the three rounds, the Telangana boxer unleashed a flurry of straight punches on her opponent's face.
In Nikhat's display, the Mongolian couldn't keep up with her flawless footwork and speed.
England's Charley Davison defeated Togo's Hainite Kayla in the last 16 and will now face Nikhat.
Shiksha paid the price for a sluggish and defensive start in the first round of her 54kg bout, which the Mongolian won.
That was until the Indian came back strongly and adopted a much more aggressive approach that paid off for her in winning the second round.
She was unable to maintain her pace in the final round as Oyuntsetseg waited for opportunities to land her punches and successfully pocket the close contest.
There are three more women in the quarterfinals: Nitu (48 kg), Manisha (57 kg), and Pooja Rani (75 kg).
After that, Ankushita (66kg) will face Aneta Rygielska (Poland) and Jaismine (60kg) will take on Angela Harries of Australia.