India
Pakistani Prime Minister Shehbaz Sharif thanks Indian PM Narendra Modi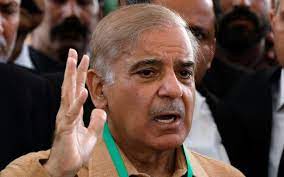 New Pakistani Prime Minister Shehbaz Sharif thanked Indian PM Narendra Modi for congratulating him, saying that Pakistan wants peaceful and cooperative ties with India.
Within minutes of Sharif being sworn in as prime minister on Monday, Modi congratulated him, saying that "India desires peace and stability in a region free of terror, so that we can focus on our development challenges and ensure the well-being and prosperity of our people."
"Pakistan desires peaceful and cooperative relations with India," Sharif tweeted in response to Modi. Unavoidable is the peaceful resolution of all outstanding disputes, including the conflict in Jammu and Kashmir. Terrorists are well aware of Pakistan's efforts in the fight against it. What can we do for our people's well-being if we can secure peace?
No-confidence motions against his predecessor, Imran Khan, were defeated in Pakistan's Parliament on Monday, and Shehbaz Sharif was sworn in as the country's 23rd prime minister, bringing an end to months of political uncertainty.
Shah Mahmood Qureshi announced that his Pakistan Tehreek-e-Insaf party would boycott the voting and staged a walkout, leaving Sharif, the younger brother of Nawaz Sharif, as the only candidate remaining in the race.
First Prime Minister Nawaz Sharif said in his first speech to Parliament, "We want good relations with India, but lasting peace cannot be achieved until the Kashmir dispute is settled."
During India's August 2019 repeal of Article 370, he criticised Imran Khan for not making "serious and diplomatic efforts," as he claimed.
To that end, he asked India's prime minister, Narendra Modi, for help in dealing with Kashmir and other issues on both sides of the border so that the two countries could work together.