World
There are rifts forming between the Pakistani government and military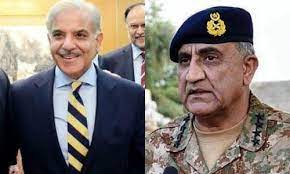 The coalition government led by Shehbaz Sharif, which came to power following a tumultuous political drama that saw Pakistan's first successful vote of no confidence, appears to have developed significant differences with Pakistan's all-powerful military establishment.
Political experts and several coalition leaders have stated that the main issue is how long the current administration will be in power, according to the Express Tribune.
As the stalemate between the military and government becomes more visible, it is also causing delays in the government's decision-making process, which has a negative impact on the economy and the country as a whole, according to a new report.
Prime Minister Shehbaz Sharif has repeatedly postponed his address to the nation in which he is expected to present his economic plan because of the uncertainty and the planned rally and sit-in in the capital by former premier Imran Khan.
While speaking at a rally in Sargodha, Pakistan Muslim League-Nawaz Vice President Maryam Nawaz asked the rally participants if the PML-N should take the blame for PTI's poor performance and whether the PML-N should remain in government or leave it.
Her words, "It would be better to say goodbye than take the blame for the poor performance of the previous government," were quoted as saying.
The Pakistan People's Party (PPP) Khursheed Shah made it clear that the coalition government was ready for elections and that they would be happy if the government was ended. This was another indication of the impasse between Islamabad and Rawalpindi.
He reportedly said, 'We would thank you for liberating us in just one month.'
Due to concerns over a "involuntary" end to the Sharif government by the establishment, some of the coalition partners even proposed calling a meeting of the National Security Committee (NSC) to discuss the matter in depth and come to a decision.
It was claimed that coalition partners believed the current state of affairs did not permit economic stabilization and that giving tough decisions to the caretaker government would only worsen the situation.
According to political experts quoted in the report, the new Pakistani government has been debating the length of its term and the date of the next election since its inception but has been unable to make a decision because they have not received assurances from the military establishment that they will be able to complete a full term.