Politics
PM Modi comes to the rescue of CM Ashok Gehlot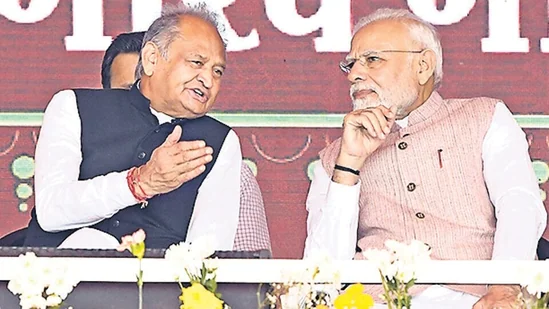 On Wednesday, current Rajasthan chief minister Ashok Gehlot was unable to talk owing to constant chanting of "Modi Modi," so Prime Minister Narendra Modi stepped in to help.
While Gehlot was speaking at the Nathdwara inauguration of development projects, the enthusiastic throng began shouting "Modi, Modi" over and over again.
People were halted thanks to Prime Minister Modi's involvement. PM Modi not only ordered everyone to be quiet, but he also instructed CP Joshi to tell everyone to get out of Gehlot's way so he could speak.
Vasundhara Raje, the former chief minister of Rajasthan, stood next to Prime Minister Modi on stage. On Wednesday, Prime Minister Narendra Modi unveiled a series of development projects in Rajasthan with a combined value of more than Rs 5,500 crore.
He also spoke at a party gathering in the Sirohi neighbourhood, held on Abu Road. Ashok Gehlot, chief minister of Rajasthan, was also present.
Prime Minister Modi visited the Shrinathji temple after landing in Nathdwara, Rajasthan, to pray before unveiling the multibillion-dollar projects.