Space
Pragyan extends across the Moon's surface by 8 metres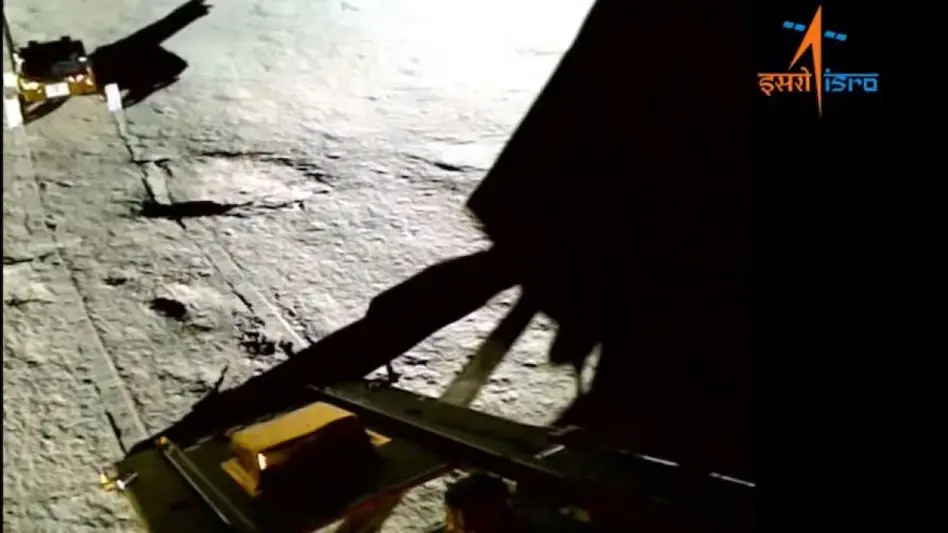 The 'Pragyan' rover on the Chandrayaan-3 mission has driven around eight metres across the lunar surface and activated its payloads, ISRO announced on Friday.
The national space agency headquartered in Bengaluru reported Friday evening that all payloads on the propulsion module, lander module, and rover were functioning normally.
All roving routes were checked and found to be accurate. The rover has driven the equivalent of 8 metres. The LIBS and APXS payloads on the rover have been activated, according to a recent X post.
Using an instrument called an Alpha Particle X-Ray Spectrometer (APXS), scientists hope to determine the lunar surface's chemical makeup and, by extension, its mineralogical make-up.
The Laser-Induced Breakdown Spectroscope (LIBS) is testing the lunar soil and rocks at the lunar landing site to identify their elemental makeup (Mg, Al, Si, K, Ca, Ti, Fe).
ISRO published a stunning video on Friday morning showing the 'Pragyan' rover descending the ramp from the 'Vikram' lander to the lunar surface, as captured by the lander's imager camera.
ISRO updated their website with the following image, showing how the Chandrayaan-3 Rover rolled down the ramp from the lander to the lunar surface.
Chandrayaan-3 Mission:
🔍What's new here?

Pragyan rover roams around Shiv Shakti Point in pursuit of lunar secrets at the South Pole 🌗! pic.twitter.com/1g5gQsgrjM

— ISRO (@isro) August 26, 2023
After the lander module successfully completed a soft landing on the lunar surface, the space agency also published the image of 'Vikram' captured by Chandrayaan-2's Orbiter High Resolution Camera (OHRC).The latest on the Chandrayaan-3 Mission: Observed you! Pictures taken by the Chandrayaan-2 Orbiter To the Chandrayaan-3 Lander! After landing on August 23rd, the Chandrayaan-3 Lander was spotted by the Orbiter High-Resolution Camera (OHRC) aboard Chandrayaan-2. This camera has the highest resolution currently available anywhere near the Moon. The post was written in ISRO's signature casual social media style.
The 2019-launched Chandrayaan-2 Moon Orbiter is still in its lunar orbit.
On Wednesday, the Pragyan rover, which was riding in the belly of the Vikram lander, touched down on the lunar surface "well within the area" designated for the mission.
The 26-kilogram, six-wheeled rover emerged from the lander's belly a few hours after touchdown.
All activities are on schedule," ISRO reported Thursday night. Currently, everything appears to be operating normally. Today, we powered up the ILSA, RAMBHA, and ChaSTE payloads on the Lander Module. The mobility activities of the rover have begun. Turning on the Propulsion Module's SHAPE payload.
While RAMBHA investigates the plasma environment around the Moon, ILSA will record seismic activity around the landing site.
The thermal characteristics of the Moon's surface will be determined by the Chandra Surface Thermophysical Experiment (ChaSTE).