India
DSR method: Punjab to cover a total of 12 million hectares of paddy fields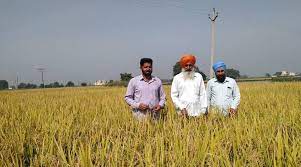 Agriculture officials in Punjab have set an ambitious goal of bringing 12 million hectares of paddy under direct rice seeding, which is nearly twice as much as last year.
Officials say that Chief Minister Bhagwant Mann, who is also in charge of agriculture, has instructed the department to make a concentrated effort so that more than 12 lakh hectares can be irrigated using this method.
Improved percolation, reduced farm labor dependency, and improved soil health result in a 5-10 percent increase in the yield of both paddy and wheat.
This technique uses a machine that simultaneously drills paddy seeds and sprays herbicide in a field, making the process more efficient and environmentally friendly.
Young paddy plants are grown in nurseries before being transplanted into a puddled field by farmers in the traditional method.
The state government has already established a Rs 1,500 per acre incentive for farmers who use the DSR technique to sow paddy.
A total of Rs 450 crore has been set aside as an incentive for farmers to promote DSR technology, which uses less water and is more cost-effective.
The chief minister ordered the agriculture department to provide free rat-control pesticides to farmers after hearing reports that rats were damaging some areas' direct sown paddy.
Gurvinder Singh, the director of the agriculture department, said the DSR technique saves about 15% of water compared to the traditional method of puddling