India
Bhagwant Mann dismiss Minister Vijay Singla over charges of corruption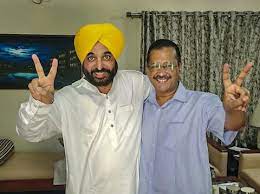 Arvind Kejriwal, the Delhi Chief Minister, stated on Tuesday that he is happy of Punjab Chief Minister Bhagwant Mann for dismissing Punjab Minister Vijay Singla over charges of corruption.
"Bhagwant, I'm quite proud of you. I'm crying because of your actions. Today, the entire country is proud of AAP "Kejriwal took to Twitter.
The Aam Aadmi Party (AAP) has a zero-tolerance stance against corruption, according to the Punjab Chief Minister. He claimed to have fired Singla from the government and ordered the police to file charges against him.
Singla demanded a 1% commission from officials for contracts, according to the Punjab CMO, and he admitted it.
"I'm taking tough measures against that minister, removing him from the cabinet and ordering the police to open an investigation. Vijay Singla is the Minister in question. He had been involved in corruption in his department and admitted it. The AAP has a strict anti-corruption stance "Mann stated.
"A case came to my attention in which a minister in my government demanded a 1% commission on every tender. It was something I took extremely seriously. Nobody knew about it, and if I had wanted to, I could have swept it under the rug. However, I would have betrayed the trust of those who had placed their faith in me "Punjab's chief minister stated.