Politics
Sachin Pilot shows support to Wrestlers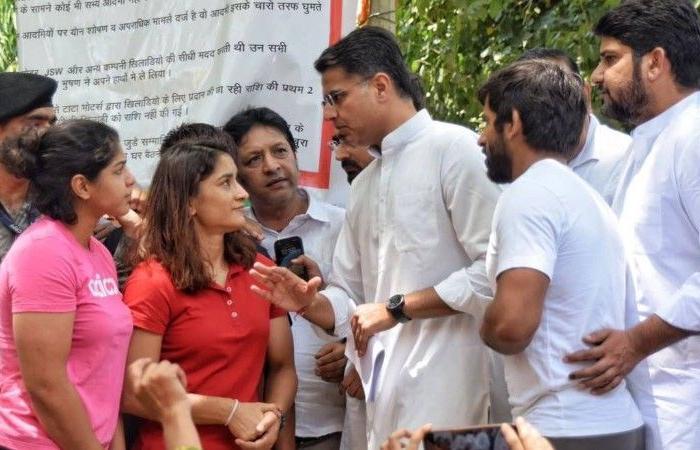 Congress politician Sachin Pilot said on Friday that a "impartial" investigation should be conducted within the bounds of the law and that the protesting wrestlers' "legitimate demand" should be granted as soon as possible.
To show his solidarity for the protesting wrestlers—among them Olympic medalists Bajrang Punia and Sakshi Malik and Asian Games gold medalist Vinesh Phogat—the leader from Rajasthan showed up to the Jantar Mantar in the morning.
Protesting wrestlers want Brij Bhushan Sharan Singh, the former head of the Wrestling Federation of India (WFI), arrested on charges of sexual harassment against female wrestlers, including a minor.
"I request all those listening to me that all their legitimate demands be met as soon as possible and action taken under the law and constitution (of the country)." "There is a very clear direction (in the constitution) how action should be taken," stated Pilot.
If Brij Bhushan is not arrested by May 21, the wrestlers, khaps, and village elders will meet to decide how to proceed with the movement.
"For the last 26-27 days, our leading sports personalities have been in a lot of pain. They have been demanding action for the wrongdoings that have happened to them. They have been pleading all these days and waiting so that they get due respect. We want their voices be heard and they get justice," Pilot continued.
According to Pilot, the happiness of a nation depends on three groups: young people, farmers, and wrestlers.