World
Shinzo Abe, a former prime minister of Japan, passed away after being shot
Shinzo Abe, a former Japanese prime minister, has reportedly been declared dead by authorities.
He was shot on Friday while giving a speech in Nara, a city close to Kyoto, according to news agency ANI, which quoted Japan's NHK World News.
After being shot, Shinzo Abe had no vital signs
Shinzo Abe, a former prime minister of Japan who was shot this morning while running for office, has passed away.
He was 67.
Abe, 67, was claimed to be in critical condition by Prime Minister Fumio Kishida, who expressed hope for his survival.
In the run-up to Sunday's upper house elections, a shooting that occurred in the Nara city was denounced by Kishida as an unforgivable assault on the cornerstone of Japanese democracy.
A 41-year-old male was reportedly detained by police after being accused of carrying out the shooting. Tetsuya Yamagami, the suspect, reportedly told police he wanted to assassinate Abe because he was unhappy with him, according to NHK. Before resigning in 2020 due to health concerns, Abe was the head of Japan for the longest period of time.
First impressions of the shooter of Shinzo Abe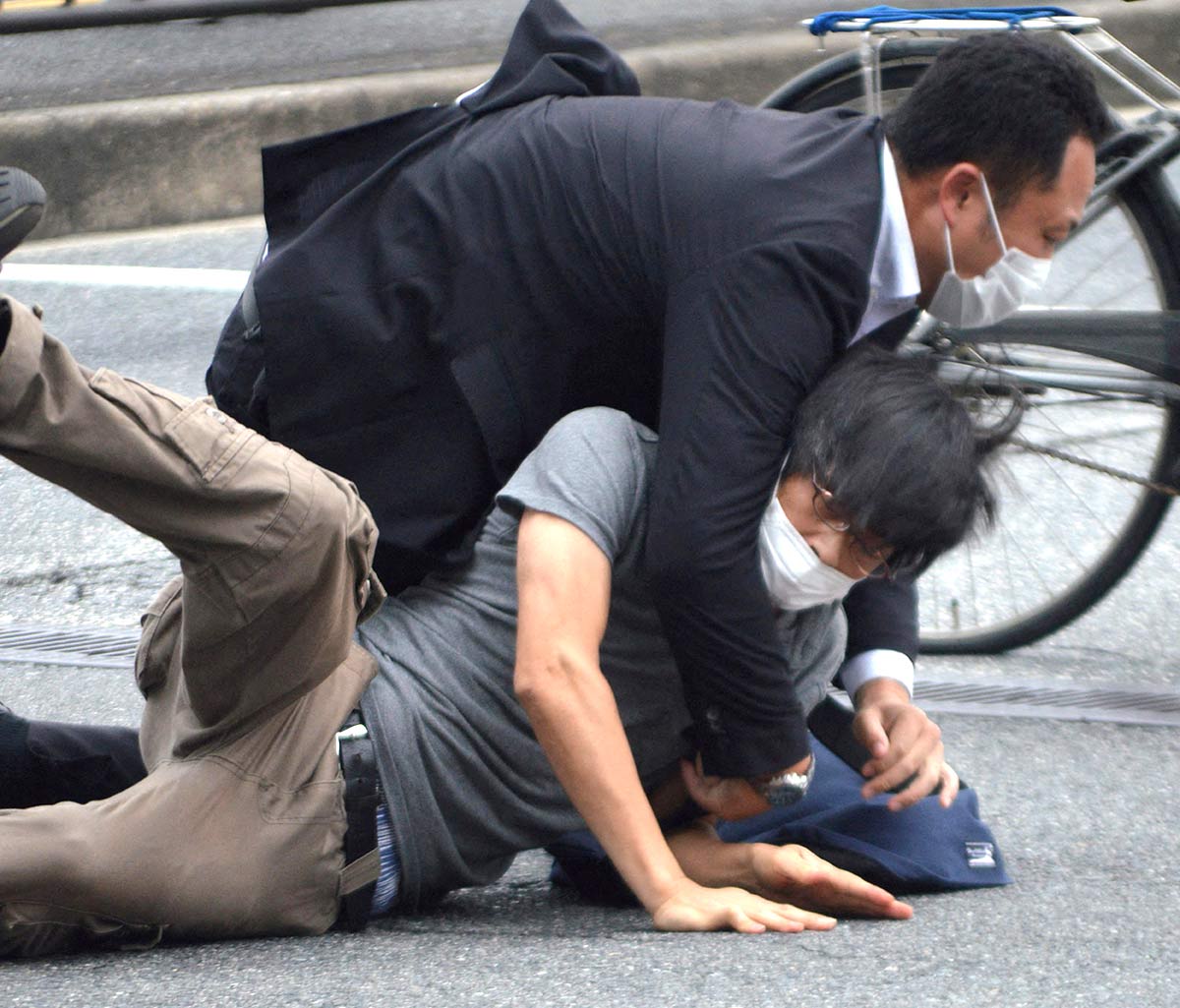 First impression: In this photo published by the Yomiuri Shimbun, a guy who is thought to be the shooter of former Japanese Prime Minister Shinzo Abe is being restrained by police at Nara's Yamato Saidaiji Station.
Abe was injured and transported to a hospital in western Japan. He was not breathing, according to officials, and his heart had stopped. In one of the safest nations in the world with some of the strongest gun control legislation, the incident came as a shock.
Tetsuya Yamagami, a 41-year-old native of Nara City, was the suspect detained on suspicion of shooting former prime minister Shinzo Abe on Friday, according to the Japanese police.
According to police reports cited by the Japanese public broadcaster NHK, the alleged gunman is being held at the Nara Nishi police station for questioning and it appears that he constructed the pistol himself.
The attacker made no attempt to flee while being apprehended by police. According to police, the shooter acknowledged he attempted to kill Abe because he was "dissatisfied" with him. According to NHK, he has been identified as a former soldier with the Japanese Maritime Self-Defense Force.
Speaking crudely about democracy: Abe's brother
According to the New York Times, Nobuo Kishi, Shinzo Abe's brother and Japan's defense minister, commented on the incident on Friday: "This is an insult to democracy. Particularly during the upper house election, it should not be permitted to repress free speech. We really pray for his full recovery."