India
Singhal, an IAS officer, is being held in judicial custody until June 8th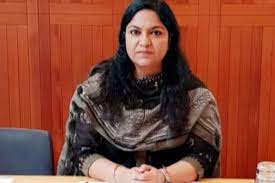 According to a lawyer for the Enforcement Directorate, which is investigating the case, a special PMLA court on Wednesday ordered Pooja Singhal, a suspended IAS officer from Jharkhand, to be held in judicial custody until June 8 in connection with a money laundering case linked to alleged embezzlement of MGNREGA funds.
The official was detained for 14 days by the ED. Singhal was taken to Birsa Munda Central Jail in Hotwar, Ranchi, after being brought before the special PMLA court of Prbhat Kumar Sharma by the ED.
"Singhal was brought before the special PMLA court today after spending 14 days in ED detention and was remanded to judicial custody until June 8, as ordered by the court." BMP Singh, the ED's special prosecutor, said she was taken to Hotwar Jail.
On June 8, Singhal will appear in front of a judge under the Prevention of Money Laundering Act via video conferencing.
The ED asked the court to allow its sleuths to question her in jail whenever they needed to.
"I suggested that it's part of a wider conspiracy, and that we need to question her again." We (ED) are not allowed to keep her in ED custody for longer than 14 days under the law. So we asked the court to force the jail superintendent to let us question her whenever we wanted. When such a need arises, the court has instructed us to file a separate petition," Singh added.
The court denied Singhal's request for a medical examination, saying it could be done by a jail doctor, Singh alleged.
"We will ask the court for authorization to question her in jail because there appears to be a bigger plot." The officer's digital gadgets are currently being examined. "With the discovery of new evidence in the case, the probe is reaching a critical point," the ED attorney added.