India
The Supreme Court tells Govt to look for an alternative to Kuno for Cheetahs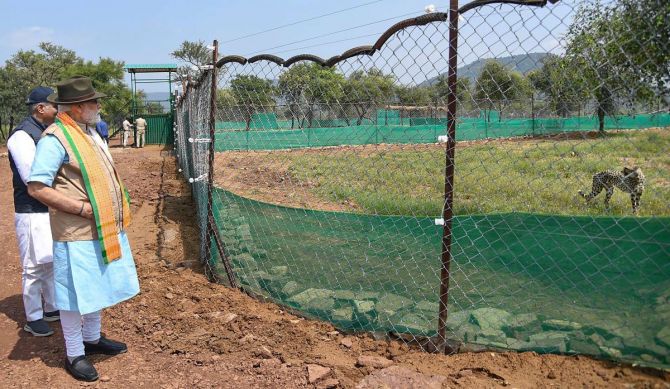 The Supreme Court ruled that there is "too much concentration of cheetahs at one place," and ordered the government to "look for an alternative, either in Madhya Pradesh or Rajasthan."
After the deaths of three cheetahs that had been translocated from South Africa and Namibia to Kuno National Park in Madhya Pradesh, the Supreme Court on Thursday directed the Centre to investigate if the animals might be introduced to other parks.
Kuno "is not sufficient to accommodate (the cheetahs)," according to a bench of Justices B R Gavai and Sanjay Karol. The court has ordered the government to "look for an alternative, either in Madhya Pradesh or Rajasthan," citing the "too much concentration of cheetahs at one place."
In court, Additional Solicitor General Aishwarya Bhati said the government is exploring all of its options, including moving the animals to other sanctuaries. The court brought up concerns that one of the animals had died from kidney problems and questioned how it had been given the all-clear to be shipped to India.
Meanwhile, the Centre has informed the apex court in an affidavit that no Indian official has any background in cheetah management since the species was wiped out in India in 1947–48.
As reported by Hamaribaat.com, on May 9 KNP saw the death of Daksha, the third African cheetah brought to India. It is believed that a male cheetah injured her as they were mating in their enclosure, and that this led to her death.
Cheetahs Sasha (Namibia) and Uday (South Africa) both passed away this year; Sasha on March 27 from kidney disease and Uday on April 23 from heart failure.
"You are bringing the cheetahs from abroad, it's a good thing. But they need to be protected. They need to be given suitable habitat, why don't you explore for more suitable habitat than Kuno", the bench said, adding that it is not casting any aspersions on the government but expressing concern over the deaths.