India
The Supreme Court transfers the Gyanvapi case to a District Judge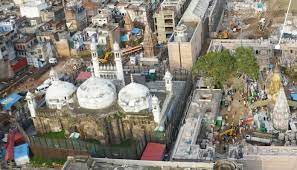 This matter will now be decided by a higher court in Uttar Pradesh after the Supreme Court's decision in the Gyanvapi mosque case was announced.
"The Supreme Court stated in its decision that it would be "better if a more seasoned hand heard the case."
"Selective leaks," the Supreme Court ruled, must stop during a hearing on a petition challenging the filming of the Gyanvapi mosque in Varanasi.
In the hours following its delivery to a Varanasi court in a sealed cover on Thursday, Hindu petitioners revealed details of the mosque filming report.
A senior and experienced judicial officer from the UP judiciary will preside over the civil suit before the civil judge in Varanasi, the Supreme Court said in a statement.
Varanasi District Judge should preside over Gyanvapi mosque case, according to the Supreme Court.
"This case should be handled by someone with a little more experience and maturity. We have no ill will toward the trial judge. However, a more seasoned professional should handle this case, which will benefit everyone involved "SC keeps an eye on things.
The Supreme Court (SC) recommends that a District Court judge preside over a trial of a religious freedom lawsuit brought against a mosque.
Interim orders, such as protection of the Shivling area and free access to Muslims for namaz, will remain in place until a District Judge decides whether the Hindu party's suit is maintainable. Regarding the controversy over the video survey, the court also says that selective leaks must be stopped.
Huzefa Ahmadi, a senior lawyer for the Masajid Committee, tells the Supreme Court that the trial court's orders since the beginning have the potential to cause great public harm.
In Ahmadi's view, the Committee's appeal will not be decided until what happens on the ground? "You have to see how this case is being used for 4 or 5 mosques across the country. The Worship Act of 1991 aimed to keep the public safe from such chaos." The plaintiffs in the trial court have been able to seal a location that was to be used for the next 500 years by this part of the community."