Business
Tata Motors and Ford India sign a MOU for the Sanand factory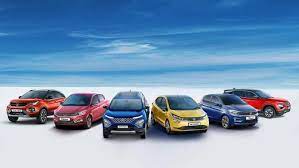 On Monday, Tata Motors and Ford India announced that they had reached an agreement with the Gujarat government to buy FIPL's Sanand car production plant.
Tata Passenger Electric Mobility Ltd (TPEML), a Tata Motors subsidiary, and Ford India Pvt Ltd (FIPL) signed a memorandum of understanding (MOU) with the Gujarat government today for the potential acquisition of FIPL's Sanand vehicle manufacturing facility, which includes land, buildings, vehicle manufacturing plant, machinery, and equipment, according to a regulatory filing by Tata Motors.
According to the MoU, all eligible personnel of FIPL Sanand's car manufacturing operations would be transferred, subject to the signing of definitive agreements and the acquisition of applicable approvals.
"With its own production facilities in Sanand, Tata Motors has had a significant presence in Gujarat for more than a decade."
"By creating more job and business prospects, this MoU further strengthens our commitment to the state," said Shailesh Chandra, MD of Tata Motors Passenger Vehicles Ltd and TPEML.
He stated that rising customer demand for Tata Motors' passenger and electric vehicles has resulted in the company's multi-fold expansion in recent years.
"This prospective deal will enable capacity expansion, ensuring future growth and providing the opportunity to further expand our position in the passenger and electric car space," Chandra added.
The MoU will be followed by the signing of TPEML and FIPL's definitive transaction agreements in the coming weeks, according to the automaker.
TPEML intends to invest in new gear and equipment in order to commission and prepare the unit for car production.
It would establish an installed capacity of 3 lakh units per year with the anticipated investments, which could be scaled up to more than 4 lakh units.
"
We estimate that this will take a few months. This Memorandum of Understanding for a prospective acquisition of this plant benefits all parties involved and helps Tata Motors speed the expansion of its PV/EV manufacturing capacity.
"This plant is next to Tata Motors Passenger Vehicles Ltd's current manufacturing site in Sanand, which should aid in a smooth transition," the Mumbai-based automaker added.
Gujarat's additional chief secretary Rajiv Kumar Gupta commented on the development, saying the MoU is meant to catalyze a win-win situation for all parties involved and facilitate a smooth transition.
"This endeavor further strengthens Gujarat's image as a progressive, investment-friendly state, as well as the state's ambition to further expand its position as a premier automotive hub in the country," he said.
It will improve foreign investor trust, solidify Gujarat's status as the country's top investment destination, and support the Atmanirbhar vision, according to Gupta.
Earlier this month, after receiving government approval for production-linked incentives, the US automaker halted ambitions to manufacture electric vehicles in India for export.
As part of a restructuring process, the business stated in September last year that vehicle manufacturing at its two sites in the nation would be halted.