Business
Tata Sons to make a record Rs 27,797 crore from its their group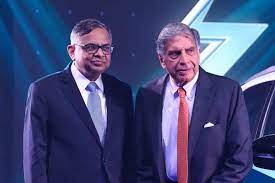 For the financial year 2021-22, Tata Sons, India's largest private sector promoter, is set to earn a record Rs 27,797 crore in equity dividends and revenues from share buybacks from its listed group firms.
This is an increase of 17.6% over the Rs 23,663 crore it earned in FY21.
Tata Sons' financial results for FY22 will show about two-thirds of these proceeds, courtesy to Tata Consultancy Services' weekly interim dividend (TCS).
Before the end of the fiscal year, the software giant completed its Rs 18,000 crore share buyback program for FY22.
The remaining dividend income will be paid to Tata Sons in FY23, as other group firms have already declared their FY22 dividend.
Listed firms typically pay out annual dividends at the conclusion of each fiscal year, with the funds appearing in shareholder accounts the following year.
TCS, on the other hand, pays an interim dividend every quarter in addition to a final dividend at the end of Q4.
These proceeds are projected to assist Tata Sons raise sales and profitability in FY22 and FY23, as well as fund the group's newer efforts in aviation, e-commerce, and consumer items, as well as fund the group's telecom venture, Tata Teleservices, which is still losing money.
In a typical year, dividend income and share repurchase profits account for approximately 95% of Tata Sons' total revenue.
The increase in Tata Sons' dividend income in FY22 is mostly attributable to TCS and Tata Steel increasing their payouts.
In FY22, these two companies are estimated to account for 95% of all dividend and share buyback profits from the group's listed companies.
Tata Steel's dividend payout more than doubled to roughly Rs 6,200 crore in FY22, up from around Rs 3,000 crore the previous year.
Tata Sons will receive about a third of the money, given its 32.5 percent share in the company by the end of March 2022.
TCS continues to be Tata Sons' single largest source of income and profit, accounting for almost 87.5 percent of total profits from its publicly traded firms.
TCS is estimated to earn the holding firm roughly Rs 24,415 crore in FY22, up from around Rs 21,750 crore in FY21.