Movie
Vijay Deverakonda 'LIGER' new poster is out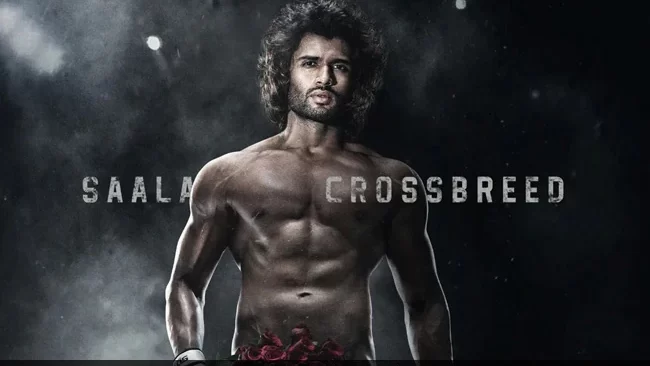 "Liger," a cross-Indian production with Puri Jagannadh as director, has wrapped up filming. The tagline Saala Crossbreed, which refers to the character played by Vijay Deverakonda, is strong and memorable.
Liger New Poster is Out
The creators of Vijay Deverakonda have unveiled this poster showing him virtually completely undressed and displaying his muscular physique. Despite being a well-known actor, he demonstrated with this act that he had no qualms about going to any extent for his films.
To play the MMA fighter, the actor did in fact go through a significant alteration. The legendary Mike Tyson has a significant part in the film, and his birthday special video captured the hearts of many with his approachable demeanor and close ties to the crew.
The team recently recorded a song about the lead couple in Mumbai, and now the promotions will begin. They'll be releasing updates on a regular basis.
Liger Stars Ananya Pandey along with Vijay Deverakonda
The starring actress alongside Vijay Deverakonda will be Ananya Pandey. The movie is being co-produced by Dharma Productions, the top production company in Bollywood, and Puri Connects. The film is being heavily financed by Puri Jagannadh, Charmme Kaur, Karan Johar, and Apoorva Mehta together.
The brand-new "Liger" poster, which features Vijay Deverakonda performing a full monty, quickly gained popularity on social media. On social media, the phrase "sexiest poster ever" is trending. Vijay Deverakonda's zealous spirit to appear in this way is being praised by many.
Internet goes Ga-Ga over the poster
Many people responded to the poster. This appearance has a backstory. It's a drama about boxing. The MMA sport requires competitors to strip off before every match since there are strict rules regarding weight/body composition. Vijay Deverakonda wore this outfit in keeping with the subject of the movie.
Ananya Panday, Samantha, Tamannaah, Karan Johar, and other famous people showered admiration. The only other celebrity to perform such a risky deed in mainstream Indian movies is Vijay Deverakonda, who did it after Aamir Khan (in PK) and Ranbir Kapoor.
The Pan India Movie, which was produced in the languages of Hindi, Telugu, Tamil, Kannada, and Malayalam, is slated for global theater release on August 25, 2022.
It's a movie by Puri Jagannadh.