Cricket
When Sachin met Kohli during a nets practice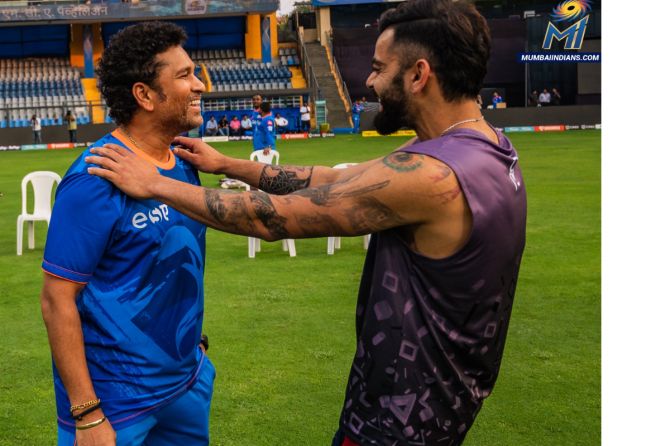 On May 8, 2023, before the Mumbai Indians and Royal Challengers Bangalore match at the Wankhede stadium in Mumbai, Sachin Tendulkar and Virat Kohli crossed paths during a nets practice.
Pictures of Sachin and Virat joking and talking during a break from practise that were shared to the Twitter accounts of Mumbai Indians and Royal Challengers Bangalore were a treat.
VRS offer for non-flying workers at Air India extended to May 31.
Non-pilot employees of Air India, which is owned by the Tata Group, now have until May 31 to register for the company's Voluntary Retirement Scheme (VRS).
The VRS application period, which opened in April, closed on April 30.
On Monday, Air India's chief human resources officer, Suresh Dutt Tripathi, informed staff that the deadline for voluntary retirement applications had been extended until May 31.
The airline added that management judgement would still be used to determine when applications would be accepted and when they would be made public.
General cadre officers above the age of 40 who have worked for the company continuously for at least five years were eligible for the offer.
Employees in the clerical and unskilled categories who have served for at least five years continuously are also eligible.
In addition, employees in the clerical and non-skilled categories who had been with the company for at least five years were eligible for VRS.