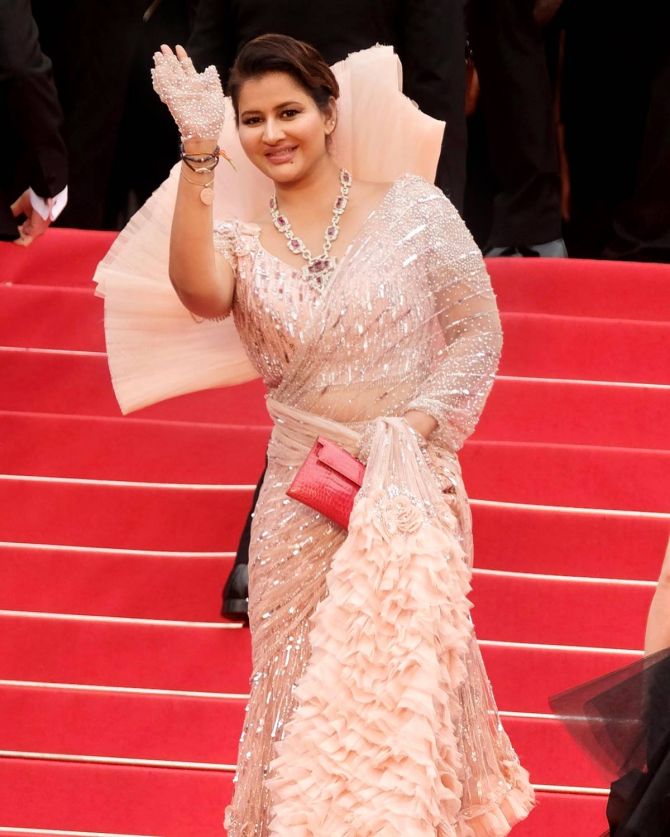 Sudha Reddy, a philanthropist, businesswoman, avid connoisseur of Art and fashion expert, choose to celebrate the elegance of the sari in her own distinctive way at the Cannes 2023 red carpet.
For the event, Sudha turned to her BFFs Falguni and Shane Peacock, who outfitted her with a sheer sari with a million beads and additional bells and whistles.
A delicate pankha-style gadget protruded from the rear of the pallu as it unfolded into a charming, ruffled train, "merging traditional influences with contemporary flair," as Sudha put it.
This outfit makes you feel as though you're strolling through a dream because of the shimmering beadwork and the delicate fan that are set off by the dramatic textures of the garment.She cried out on Instagram.
She wore matching fingerless gloves and a hefty semiprecious stone necklace as accessories.
The outfit broke new ground as a sari with aspirations of becoming a bridal gown.
She said that to achieve the angelic look, designers Falguni and Shane Peacock "married delicate tulle with intricate embroidered corsetry."
Source:- Sudha Reddy Instagram